JUDITH SÖNNICKEN
QUANTUM ATHLETE
TRINITY CODER
ANCIENT COSMOLOGIST
UPCOMING:

HYPEROBJECTS.IO/LAB
A virtual 3-month exploration @NAVEL, L.A.
Judith Sönnicken
September 12th - November 28th, 2021
On Sundays, 11-12:30am Pacific time

hyperobjects.io is an ongoing interspecies art performance in honor of all expressions of life. It allows artists, through creative expression, to contribute to environmental stewardship and be part of a planetary community to play, learn, unlearn, and expand their consciousness.

The lab @navel.la is a 3-month timeframe to collectively explore and activate this format online - as an art performance, an ecosystem, a consciousness exploration, a care economy, a meditation and embodiment practice, a planetary community, an abundance grid, an interspecies communication portal…

Join us to play, meditate, make art, embody, care, connect, unlearn, discuss, learn and go quantum together :)

Guests: Dambi Kim, Dr. Yewande Pearse, Terra0, Felipe Aracena, DK Osseo-Asare, Görkem Bereket, Elisa Balmaceda

Please visit http://hyperobjects.io/ for info

RSVP REQUIRED FOR EACH SESSION AS SEATS ARE LIMITED

Funded by Andrea von Braun Foundation, Kunststiftung NRW, Ministry of Culture and Science North Rhine-Westphalia






HYPEROBJECTS.IO


WORKSHOP
Judith Sönnicken
9/9/2020 12pm EST
Online / Toronto CA

To call something a hyperobject means to look at it with new eyes, to reclaim its inherent mystery. Hyperobjects are comparable to hashtags, implying metadata of time and space.

hyperobjects.io is a digital performance template for interspecies relationship. Participants can geo-tag artworks or stories on an interactive, borderless map. Likes, shares and purchases create funds for international micro-scale environmental projects through a blockchain script.

This virtual workshop / morphogenetic performance starts off with a short walkthrough and the creation of individual user profiles. Participants are encouraged to think of their identity in relationship to surrounding life forms, elements and metabolisms as a synthesized "quantum selfie." The group will be guided through an interdimensional meditation to "tune into" the hyperobject on a different plane of consciousness to then create and geo-tag an artwork or story related to it on the map.

Our Networks is a conference about the past, present, and future of building our own network infrastructures. The event brings together enthusiasts, hardware and software hackers, researchers, organizers and more to collectively explore creative and critical engagements with the Internet and alternative infrastructures.

info and tickets at
https://ournetworks.ca/





ALESSANDRO BALTEO-YAZBECK:
ALL THE LANDS FROM SUNRISE TO SUNSET

Galerie Martin Janda, Vienna AT
17.01.–29.02.2020
For his third solo exhibition at Galerie Martin Janda, Balteo-Yazbeck has collaged and assembled materials and topics from advertising, propaganda, the news, social media, sleek technologies and even interior design. He has also enlisted some artist-friends by including their works, thereby adding to each other's anthropocentric anxieties. In his most recent series, All the Lands from Sunrise to Sunset (2018), different iterations of this age-old maxim evoke the evolution of hubris for more than four thousand years up until the present. Spelled in extremely colorful collages and encoded as hashtags or email addresses such as Britain1821@SunNeverSets.co.uk, they resemble cut-out-letter ransom notes.

This series includes sculptures carved in olive wood and shaped as human hands, originally created by Attilio Napolitano, that Balteo-Yazbeck has nonchalantly intervened in different ways. Also part of the series, the small installation Backup (2013), originally made by Judith Sönnicken is now shown against a photo-collaged background, refers to our shared anxiety over losing digital archives. These three-dimensional works confront us with disparate technologies parading as human practices in our contemporary civilization – from ancient Chinese formulas for nail polishing and shellac, to coal as a fossil fuel, cellphones and GPS.


view exhibition
UN/NATURAL SURROGATES

Online exhibition launch: December 12th/ 2019 , 7pm
@Public Art Lab / Brunnenstr. 72 / Berlin DE

Curated by Magdalena Kovaric & Benjamin Egger
Post-Digital Art Practices in Cultural Education
University of Applied Science / Potsdam DE

Artists: Donna Conlon, Hannah Neckel, Jan Robert Leegte, Jocelyn Neumann, Judith Sönnicken, Katrin Petroschkat, Kenny Löffler, Lele Schlaich, Leo Lehner, Mariana Reinhardt, Marisa Olson, Martyna Poznanska, Meike Boekholt, Mit Borras, Molly Soda, NEEEU, Renee Klaßen





UNSETTLING TIME

online Nov 1, 2019 - Mar 1, 2020
IRL Nov 4 - 20, 2019 / E. Bronson Ingram Studio Arts Center / Nashville US

Curated by Alejandro T. Acierto

Unsettling Time is a curatorial project by alejandro t. acierto that foregrounds Indigenous, queer, and postcolonial ideas around time. With work that draws on the archives of networked society, these pieces offer new theoretical formations, assemblages, and conceptualizations of time and temporality.
In an effort to decolonize time, this project sets out to destabalize the chrononormative straightness of time, to allow it to exist outside of the singular constructs of linearity and progress. As such, these works revise how we might think of other times, of the durations and extensions that push time into space, and of the multiple compressions of accumulated times that enable us the capacity to offer singular objects and memories.

Joshua Albers // Lee Blalock // Edgar Fabián Frías // Jason E. Geistweidt //
Yun Ingrid Lee // Xavier McFarlin // Dan Paz // Zander Porter // Rodrigo Nava Ramirez // Fran Pérez Rus // Tyler Ryan // Heath Schultz // Judith Sönnicken // Eric Souther // Eva Wǒ // Jacqueline Wu

Support for this exhibition is provided in part by a grant from The Andrew W. Mellon Foundation, the Vanderbilt University Center for Digital Humanities, The Curb Center for Art, Enterprise & Public Policy at Vanderbilt University, the Vanderbilt University Department of Art, and Space 204




BEFRIENDING HYPEROBJECTS: PHOTOSYNTHESIS

Sonic meditation / performance
Friday, 10/18/19 // 7:30 pm at Gemeinde Köln / Cologne DE

For Vanja Smiljanić's solo show Plant Rant: Mea Culpa on Chlorophyll Sling
Curated by Agustina Andreoletti

Environmental observations like the movement of the sun or the formation of clouds can be difficult to grasp. They hover in an abstract space, a hyperspace: they are #hyperobjects. This guided sonic meditation is a friend request to the hyperobject photosynthesis in both physical and virtual environments. By embodying one collective botanical organism, participants get to convert carbon dioxide into oxygen and express their gratitude to the plant kingdom for relentlessly doing so.

view more





RADICAL IMMERSIONS

Fri 6 - Fri 20 September, 2019
Watermans Art Centre, London UK

This group exhibition engages critically with ideas, practices and beliefs of immersion in relation to digital culture and new media. It is also part of this year's Digital Research in the Humanities & Arts (DRHA) conference.

With works by disnovation.org, Claudia Dutson, Dasha Ilina, Danae Io, Gretta Louw, Hans Overliet, Guli Silberstein and Judith Sönnicken.

Curated by Klio Krajewska in collaboration with Elena Papadaki and Dani Ploeger.

view website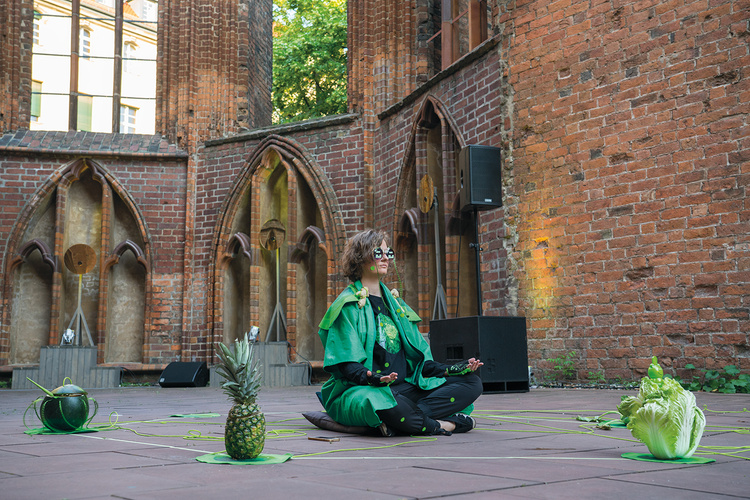 BEFRIENDING HYPEROBJECTS: PHOTOSYNTHESIS

2019
Sonic meditation / performance
Ruine der Franziskaner Klosterkirche, Berlin DE
Curated by Creamcake

view more





DIGITAL AMERICA

An essay on Google Gardening by Hannah Grow
2019

read essay





SOUND SCIENCE PODCAST #5:
THE LEFT-BRAIN VS. THE RIGHT-BRAIN





At some point in your life, someone may have asked you whether you are left brained, or right brained. Or maybe you have heard someone proudly proclaim that they are right brained. This show is all about 'The Left Brain Vs. Right Brain' and the long held belief that people tend to have a personality or style of thinking that is either "right-brained or left-brained". As a musician is your right-brain really doing all the work? Myth, half myth or truth?

Guests:

Judith is an artist, whose recent work 'Befriending Hyperobjects', was recently exhibited at NAVEL in Los Angeles.

Rex Eugene Jung is an American psychologist who has researched on the neural basis of human intelligence and creativity.

Sound Science Podcast is a monthly podcast by Dr. Yewande Pearse about the science stories that affect our lives and have in some way influenced music.

listen to episode






BEFRIENDING HYPEROBJECTS @ THE MEETING ROOM / NAVEL

2019
Los Angeles US

Befriending Hyperobjects is an ongoing decentralized eco-performance interfacing art and technology to fund environmental projects.

Hyperobjects are entities we cannot grasp in their entirety, such as water, cyanobacteria, or typhoon. They appear to us as an abstraction due to their scale, ethereal nature, or non-linear relationship with time. They are comparable to #hashtags.

In this project, artists "befriend" hyperobjects, similar to how you can befriend or follow someone online.

The initial exhibition at NAVEL in Los Angeles featured 17 artists from 5 continents and was fully biodegradable with exception of the technology needed for display. Instead of solitary human art practice, this project portraits the encounter and collaboration of human and non-human entities.

We were able to raise $82.98 / 0.46 ETH for the native plant nursery Hahamongna in Pasadena.

arroyoseco.org/nursery.htm

view exhibition




INTERDIMENSIONAL ATHLETICS
Guided meditation through 9 dimensions
2019
With the support of breathwork, sound, and aromatherapy,
Judith Sönnicken
guides an inner journey for 7 participants through dimensions 1-9 (in chronological order). Upon their return to linear space/time, participants are invited to visualize the imagery that unfolded during their journey.
NAVEL, Los Angeles US
HYPERSLOW, Los Angeles US
STUDIO GOLDSCHMIDT / RUTHERFORD, New York City US
view more
HERETICS #23: DEAR LITHOSPHERES
I made a guest mix for Diana Policarpo's
HERETICS
on RADIO QUANTICA!
It will air on 09/19/18, after that you can

listen here